Chris Welsford, Managing Director, Independent Financial Adviser and Investment Adviser. Chris is a graduate of the University of Southampton (1986) with a B.Sc Hons in Social Sciences Politics.
He joined the UK's first execution-only share-dealing service, Sharelink, as a Client Account Manager on the 20th October 1987 the day after Black Monday. He then worked in IT accountancy sales before joining one of the last Canadian mutual life insurance companies, Confederation Life in 1992 as a life Underwriter. In 1993 he joined Laurentian Mildon as a financial adviser and Mentor for their fees based financial planning service.
He established Ayres Punchard in 1995 specialising in fees based advice and ethical investing, which remains a core value and a strong part of the investment process employed today. Chris believes that there is firm evidence to show that by taking Environmental, Social and Governance factors into account, when analysing investment funds and constructing portfolios, more sustainable investment outcomes can be achieved.
Chris is committed to the highest professional standards and holds the IMC (Investment Management Certificate) and is an IMC member of the Chartered Financial Analysts Society of the UK.
He is also a Chartered Member of the Chartered Institute of Securities and Investment.
In addition he holds the Chartered Insurance Institute's CF8 Long Term Care Insurance qualification and is therefore qualified to provide advice to clients and their representatives on matters associated with long-term care fees planning, affairs of the elderly and those in need of, or already under, a power of attorney.
---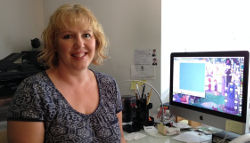 Wendy Welsford, Office Manager and PA to Chris.
Wendy is a graduate of London's Southbank Polytechnic (1986) with a B.Sc Hons in the Social Sciences.
She has spent most of her working life in the Library Service and was a school librarian until 2009 when she decided to join Chris in the business as his personal assistant and office manager.
Wendy is responsible for the smooth running of the Ayres Punchard back-office administration systems. She works closely with the company accountant monitoring costs and budgets.
She is also the driving force behind the company's recycling and environmental policies which have resulted in 100% of our office waste being either recycled or composted. She also managed the sourcing and installation of our photovoltaic (solar) electric generating system which means that almost 100% of our office electricity is generated by this renewable method.
---
Ken Baugh, company secretary and accountant is a retired former Chartered Accountant with Hook Harris on the Isle of Wight.
With over 50 years experience in accountancy, Ken provides tax and accountancy advice to the firm and is an invaluable member of the team.
---
Thea Welsford, marketing and design consultant. Thea is a graduate of the University of the Arts London (Camberwell 2013) with a BA Hons in Graphic Design.
She was responsible for the modern day development of the company logo and the graphics for this website, building on the original designs of leading graphic designer, John Williams who in 1995 helped design the company's brand image. John was a client of Chris's and was also responsible for the design of many 'famous names' marketing campaigns such as Marks & Spencer and Boots during the eighties and nineties.
Thea provides her services to Ayres Punchard on an ad hoc basis whilst pursuing a career in graphic design.
She is also a founding member of The Ventnor Fringe Festival.