Thank you for visiting our site. As a private investor, it is important that you read the following: nothing on this website is intended to be advice or a personal recommendation.
Before taking any action in conjunction with anything you read on our website or in any associated documents, you should seek professional advice from a suitably qualified, authorised and regulated financial adviser.
Please take a few moments to learn about our unique history, which goes back to 1995.
Ayres Punchard was established as a nil-commission, fees-only financial advisory firm, offering private investors the chance to align their investments with their values.
Back then, there were only a very small number of specialised ethical, green, or SRI (socially responsible investment) funds. When the company started, the way in which we went about investing was very much part of a broader, more conventional, 'blended' approach.
In 2009, we felt sufficiently confident to begin offering wholly ethical, sustainable, and socially responsible portfolios for those clients who wanted them.
This led to us carrying out extensive research into the so-called performance cost of investing ethically.
A year later, we began to integrate ESG (Environmental Social and Governance) factors into our analysis process and investment philosophy.
By 2012, we had sufficient evidence to prove that sustainable investing often leads to outperformance over conventional investment strategies but that there could be a cost for ethical investors, depending on their requirements.
This important distinction between ethical investing and sustainable and impactful investing has been a hot topic ever since.
The firm's founder Chris Welsford was invited to make the keynote address to the Investment Week Sustainable Investment Conference in 2014.
In that speech, to more than 100 SRI and ethical fund managers, Chris challenged the ethical fund management industry to clean up its act.
In 2016 the firm – and Chris – was featured as a 'cover star' in Citywire's New Model Adviser, which praised the "unique perspective on business at Ayres Punchard".
They said, "the investment approach sets Ayres Punchard apart" from the competition, with our "environmental, social, governance (ESG) – centred approach, incorporating three in-house model portfolios".
In 2018, against stiff competition and judged by some of the leading figures in socially responsible, sustainable and impact investing, Ayres Punchard won the inaugural Social Investment Academy Impact Champion award for a financial advisory firm.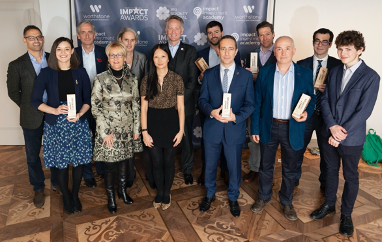 We launched the Key to the Future model portfolio service in 2020, and it is available to all clients of Ayres Punchard. Please get in touch if you are interested in becoming a client of ours.