The Key to the Future Model Portfolio Service
The Key to the Future MPS strategy can trace it origins back to 2009 when we started developing sustainable investment portfolio strategies for clients, often on a blended basis, integrating these strategies with clients' conventional portfolios.
We always remembered whose money it was and made great efforts to ensure that we were focused on producing great risk focused returns and not moralising about doing good, although everyone definitely felt good as a result of the work we were doing.
An award winning firm
By 2014, we had gathered significant evidence, some of which we cite in the Key to the Future Investor Guide, that investing sustainably and using ESG factors in our analysis was a key factor in producing outperformance.
It was just a question of finding talented active managers that really did the job well.
In 2018, we won the SIA Impact Award (now the Impact Investment Academy) and became Impact Champions.
Having our strategy judged independently as nationally outstanding, by leading lights in the sustainable investment world, motivated us to develop our own discretionary managed model portfolio, using the same advisory strategy that we had developed over the previous 23 years.

From this, the Key to the Future Model Portfolio Service was born.
After a long search for a DIM that could work with us to develop a discretionary managed portfolio that other financial advisers could access, we engaged Peregrine Black Investment Managers to work with us.
It was vital for Ayres Punchard to retain full responsibility for the strategy and for fund research and fund manager engagement, and this is precisely the arrangement that we have.
'The Key to the Future Impact Research Project'
The Key to the Future Portfolio invests in up to around 20 different funds, each of which is invested in many companies that the fund manager and their team have deemed investable, in accordance with their particular fund's investment philosophy.
The Key to the Future Impact Research Project looks at each individual underlying holding and interrogates each one against various criteria to uncover the impacts of these individual companies in both positive and negative terms.
To try to understand companies' negative impacts, both potential and actual, the team uses the UN Compact's 10 principles to measure and evaluate corporate activity and its effect on humanity and our world.

To determine their positive impacts, the team uses the UN's 17 Sustainable Development Goals (SDGs).
Do companies generate positive outcomes, or risk?
What this involves is an advanced level of investigative research, with deep online searches.
You might regard this as an ethical screen, but we don't. We see these factors as part of an evaluation of each company's potential for generating risk, where certain behaviours could damage their financial standing: that is to say, negative impact through contravention of one or more of the 10 principles.
At the same time, it's an evaluation of each company's potential for generating positive outcomes. By looking at their contribution to global development measured, in terms of the UN SDGs, we can determine each company's positive impact.
An ethical screen would not work like this. It would look at the specific concerns of individuals that might have no financial bearing, such as animal testing.

One of the funds in the Key to the Future portfolio has DexCom as its second largest holding.

DexCom is on the Cruelty Free Investing list of 'companies that exploit animals' and would fail that screen if we were building a bespoke ethical portfolio for a client who wanted us to exclude that activity.
Our focus is on sustainability and impact
For the Key to the Future model portfolio, we're not trying to accommodate individual ethical values.
We might be encompassing some commonly shared ethical values in the way that we are investing, but our focus is on sustainability and impactfulness.
Ethical values may help us evaluate these sustainable and impactful characteristics and so at the same time we do need to understand the ethical issues.
They can come up in client conversations, and they can create risk through controversy that might have the potential to damage a company's reputation and thus the share price.
Ultimately, the Key to the Future Portfolio is about sustainability and impact, both positive and negative. The job of the Key to the Future Impact Research Team is to uncover those impacts and help us to build a future-facing, profitable, and robust investment portfolio.
How do we operate the Key To The Future, and how does it perform?
We host the Key to the Future model portfolio service on the Fundment Platform, which provides a cost-effective solution, with a maximum platform charge of just 0.15% and significantly less for larger portfolios.
With DIM charges at 0.44% (including VAT) and MPS ex-anti inclusive ongoing fund costs ranging from 1.04% to 1.12% the Key to the Future MPS is cost effective and attractive to the adviser community.

Performance has been excellent, and we can demonstrate real value for money and out-performance over very long periods.

This has been dramatic over the last twelve months, as outlined in the following performance charts: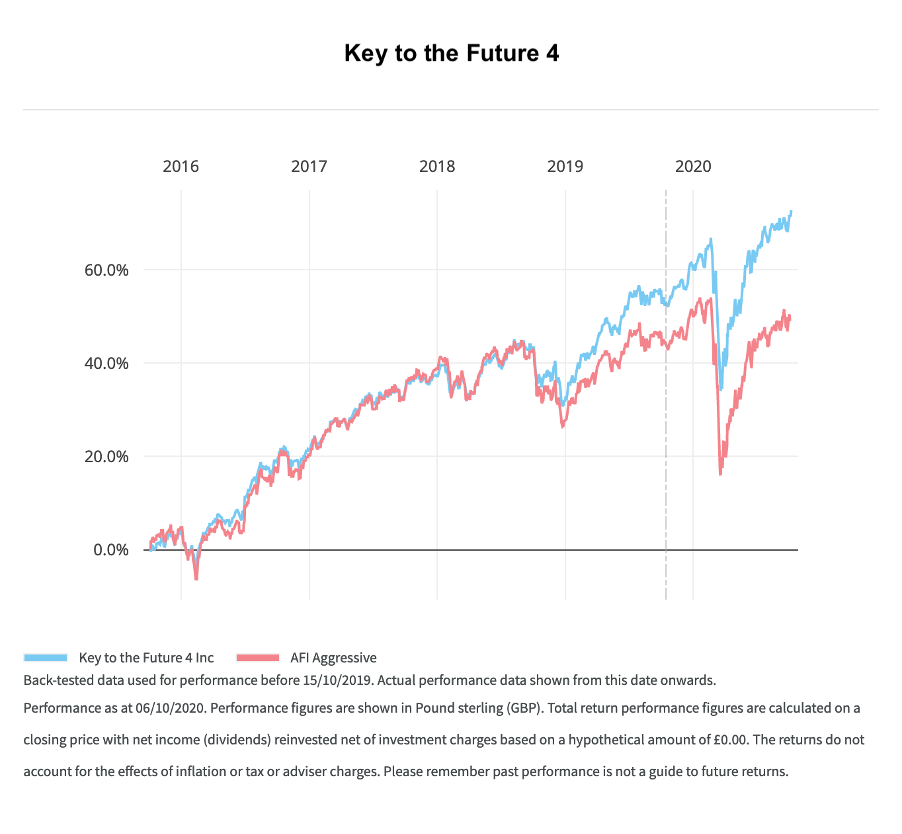 If you would like to discuss the possibility of using the Key to the Future MPS for your clients and want more information, please do get in touch.