The Smoggy Island
---
The first electric vehicles were invented in Britain in the 1830s, but the patent for the first working internal combustion engine – powered by fossil fuels – was granted in 1854, and the electric engine fell into the dark, smoky shadow of its competition.
There's something in the air
In March 2017, the BBC reported that "air pollution nationally has been generally dropping" but conceded that "in many big UK cities safe limits on harmful particulates and oxides of nitrogen – NOx – are still regularly breached".
The World Health Organisation recently released a report showing that air in 44 UK cities contains unacceptable levels of fine, sooty particles related to heart disease and premature death, although the limits set by the WHO are far lower than those set by the UK government.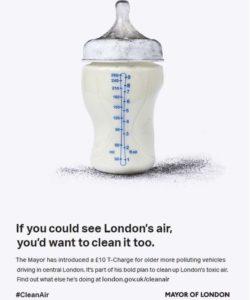 London Mayor Sadiq Khan has launched a toxicity charge aimed at older, more polluting vehicles on London's roads, and it will now cost affected vehicles £11.50 a day to drive within the Congestion Charge zone, on top of the £10 it costs to register.
Alongside these measures, Khan is running a poster campaign on the Underground, highlighting the health risks faced by Londoners, with images showing coffee cups and baby's bottles dusted with soot, alongside the slogan "If you could see London's air, you'd want to clean it too".
But this is not an issue isolated to inshore centres of population, as seaside towns such as Southampton and Eastbourne, where one could be forgiven for thinking that the fresh sea breeze would ensure good air quality, scored similarly to London in the World Health Organisation tests.
A democratic deficit
Britain's democratic decision-making reveals a deep disdain for the environment: Michael Gove, the new environmental secretary, has pledged to deliver a "green" Brexit, but Greenpeace have called the UK government "one of the most obstructive and regressive in Europe on environmental issues", and said that "removing our influence might allow stronger regulation in the remaining EU".
Earlier this year, Baskut Tuncak, the UN's special rapporteur on human rights relating to toxic waste, said that "despite repeated judicial instruction, the UK government continues to flout its duty to ensure adequate air quality and protect the rights to life and health of its citizens."
Yet despite all of this, the June 9th election saw other parties, who proposed apparently better environmental policies, unable to form a government, as the Conservatives clung on to power by a thread, only with the help of the Democratic Unionist Party.
The deal with the DUP is yet another reason for environmentalists to despair; the fiercely religious right-wing party have previously appointed a climate change denier as the environment minister in Northern Ireland.
What can 'ordinary folk' do?
With the popularity and mainstream recognition of ESG analysis, it is now a proven fact that companies who score well on environmental, social, and governance criteria create more sustainable returns for investors than companies with lower scores.
A significant barrier for many investors has been the misconception that they have to sacrifice returns to invest in line with their principles, but this is now evidently not the case; we have seen that returns for funds that use ESG as a guiding principle are able to consistently beat the benchmarks of 'conventional' funds.
Investors reading this report who feel motivated to make a difference to Britain's poor quality of air, and who want to ensure that their money is being invested in companies whose actions are having a positive effect on the environment, can put pressure on their fund managers to convince companies to adopt the UN's Sustainable Development Goals (SDGs).
This way, investors' money will be invested in companies whose operations centre around true sustainability, which amongst other important factors will include finding alternatives to our reliance on fossil fuels and the internal combustion engine.
A future for electric cars
In the Autumn budget, the UK government committed £340 million for a national charging network, alongside subsidies for electric vehicle buyers and a tax increase on diesel vehicles.
However, Sadiq Khan has said that these announced measures are "totally inadequate" because there was no mention in the budget of introducing a "desperately needed diesel scrappage fund".
Some motor manufacturers have introduced their own schemes, with Peugeot offering up to £6,000 for diesel vehicles older than 7 years, and owned for more than 90 days.
A company which would probably not appear in an 'ethical' investment portfolio is Shell, but the British-Dutch oil company has just announced that they will soon be rolling out high-speed charging points at their petrol stations in the UK.
If even Shell – who predict around a quarter of the world's cars to be electric by 2040 – are beginning to cater for the needs of electric vehicle owners, then fund managers should be investing their client's money in the electric vehicle industry.
Ayres Punchard's investment portfolios include funds that invest in the technology, and the company is currently researching the FP WHEB Sustainability Fund; the WHEB group say it is their belief that "the energy storage market is likely to be dominated by the large electrical engineering businesses … involved in the electricity value-chain".
Finding a sustainable source
The shift to electric vehicles has historically been a controversial environmental issue due to our reliance on coal and nuclear power plants, and subsequent pollution and waste that they cause.
Around 52% of electricity in the UK is generated by fossil fuels (in 2015 we made 30% from natural gas, and 22% from coal), and roughly 21% of our electricity comes from nuclear power, but renewable technologies are on the rise, and renewable energy was responsible for a quarter of Britain's electricity in 2015.
Due in part to its comparative cheapness, renewable energy has overtaken both nuclear and coal to become Britain's second largest source of electricity, and at 25% the industry is not far away from surpassing natural gas at the top spot, as supplies in the North Sea continue to run out and Britain's gas production relies more heavily on imports from Norway.
Renewables are truly the industry of the future and will play a huge roll – alongside electric vehicles – in reducing the UK's carbon footprint, and the disastrous levels of toxic air in British cities.
By investing in companies that are leading the way to a cleaner atmosphere, as well as engaging with and encouraging others to adopt more sustainable working practices, Ayres Punchard are playing a vital role in enabling clients to generate more sustainable long-term investment returns, at the same time as helping to improve the quality of the air that we all have to breathe.